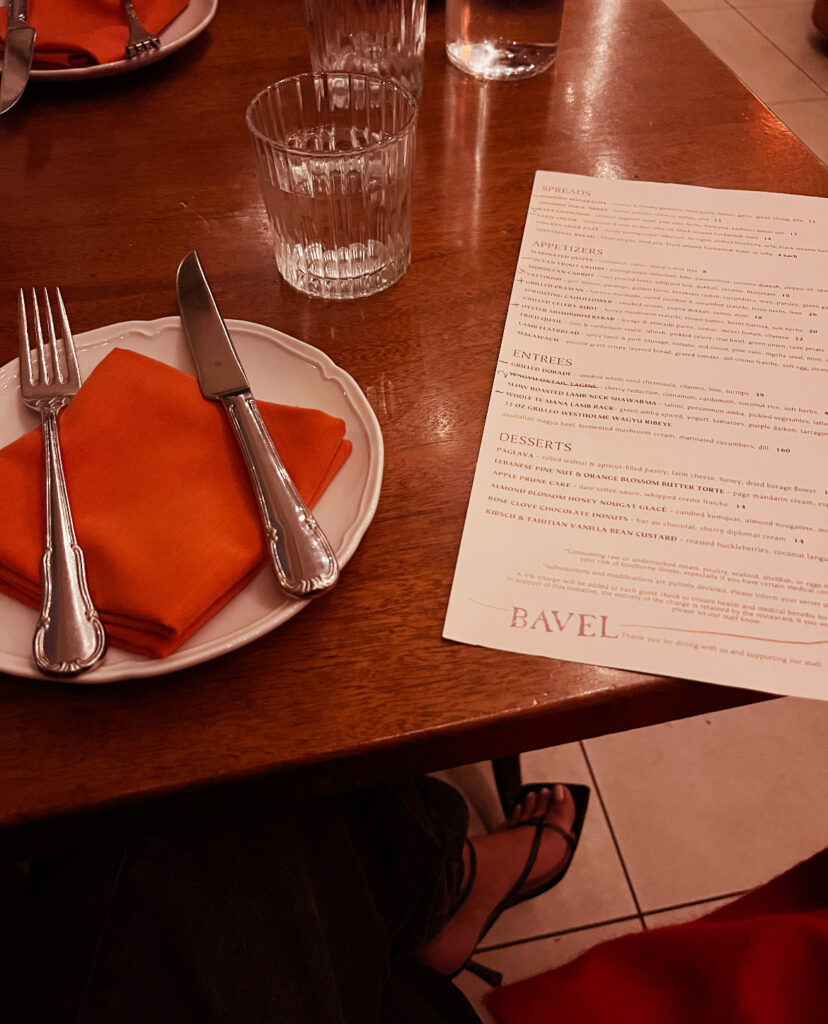 Located in downtown Los Angeles, in the heart of the Arts District is a Middle Eastern restaurant called Bavel. It's considered one of the best restaurants in Los Angeles (for good reason!). The menu was created by chefs Ori Menashe and Genevieve Gergis whose goal was to highlight flavors from their family lineage in Israel, Morocco, Turkey, and Egypt.
The Aesthetic
Previously an old warehouse, the transformed restaurant is both hip, chic, and airy. The color pallet includes cool earthy tones and uses mixed materials of marble and brass. The bar features three arch displays with mirror backdrops and brings added dimension to the space. There are plants hanging from the ceiling of the main dining area which gives the space a wow factor. I've been there a few times, so I'm going to list my favorite eats.
Appetizers
We ordered the Scallop Crudo which is bathed in pomegranate molasses, lemon, and serrano chili oil, garnished with charred cucumber, micro mint, and black sesame. It was very delicious and fresh.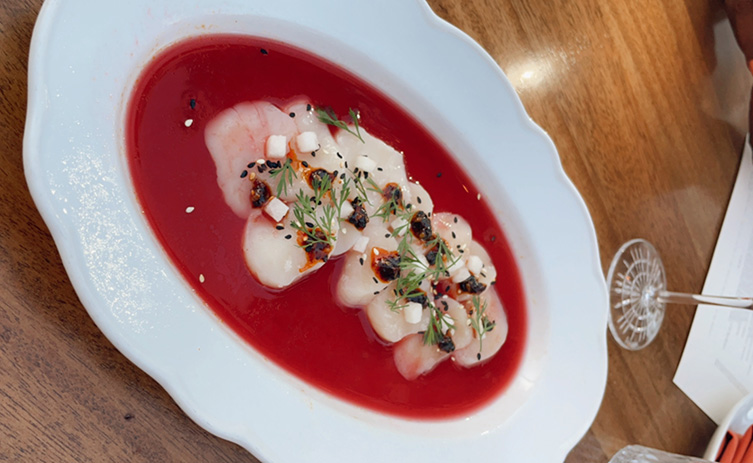 The fried quail is something special. It featured a rich date and cardamom paste topped with fried quail. The quail was garnished with dollops of Labneh, each topped with pickled celery, and a sprinkle of rose petals, ribbed Thai basil, and crisp strips of green onion. My only recommendation is to ask the chef to prepare the quail until it's medium crispy.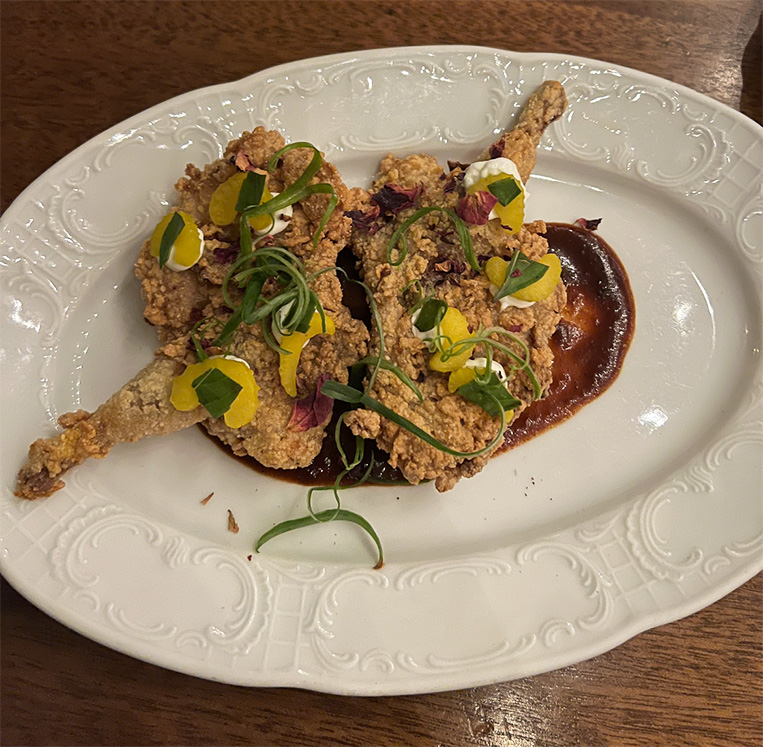 The grilled prawns are to die for! The appetizer comes with about five whole prawns are were marinated in a spicy-sweet Harissa sauce. The prawns sit on top of Tzatziki which has a nice crunch due to the curly cucumber ribbons and cured zucchini, and offers a tangy and creamy opposition to the flavor of the shrimp. It's garnished with fresh mint and lime juice. This app is a must!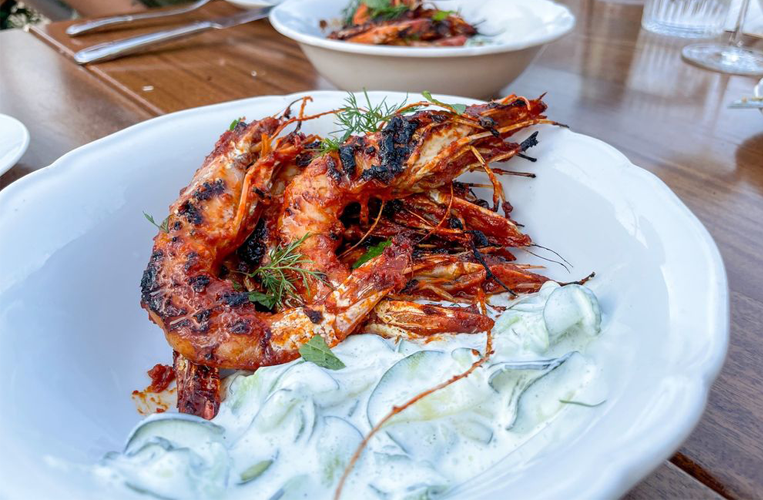 The Baba Ghanoush is a staple, a pillowy warm fried pita accompanies it (you may want to order an extra one), topped with Kashmiri lemon salt.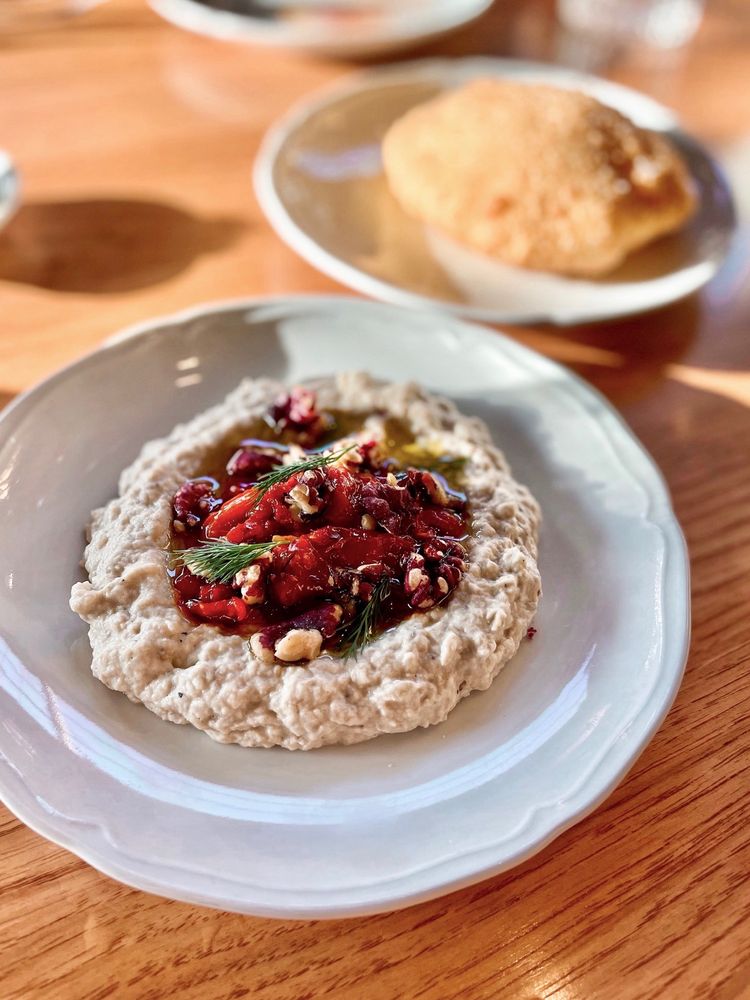 Main Course
The Slow Roasted Lamb Neck Shawarma is most certainly a show-stopper! The meat slowly roasts for 12-16 hours resulting in a tender and smokey delicacy. The flavor is a perfect blend of allspice, sumac, cardamom, black pepper, and caramelized onion puree. It comes with a side of tahini, ajika (spicy red pepper and tomato sauce), crunchy pickled veggies, amba sauce and hot laffa bread.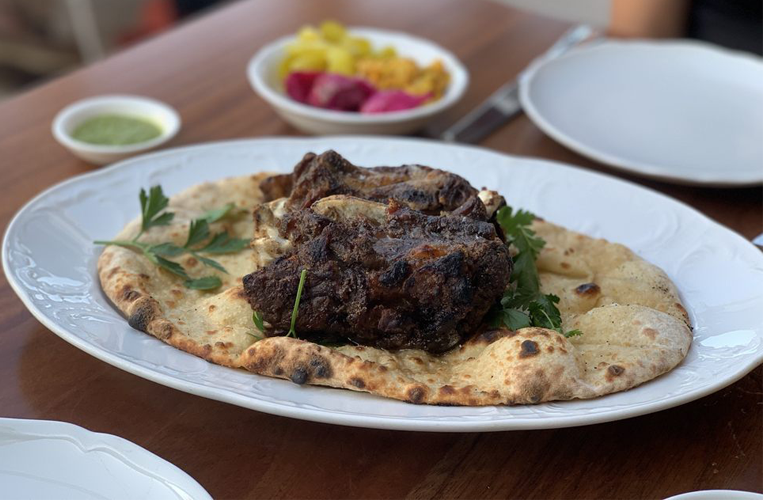 It's considered one of the best restaurants in Los Angeles, so the demand is quite high. I recommend booking your reservation on Open Table 1-2 weeks in advance. If you're unable to book a table, check out their sister restaurant, Saffy's.